The Heritage Lake Campground & RV Park and the immediate area offer many amenities to make your RV'ing experience just what you want it to be. Join us!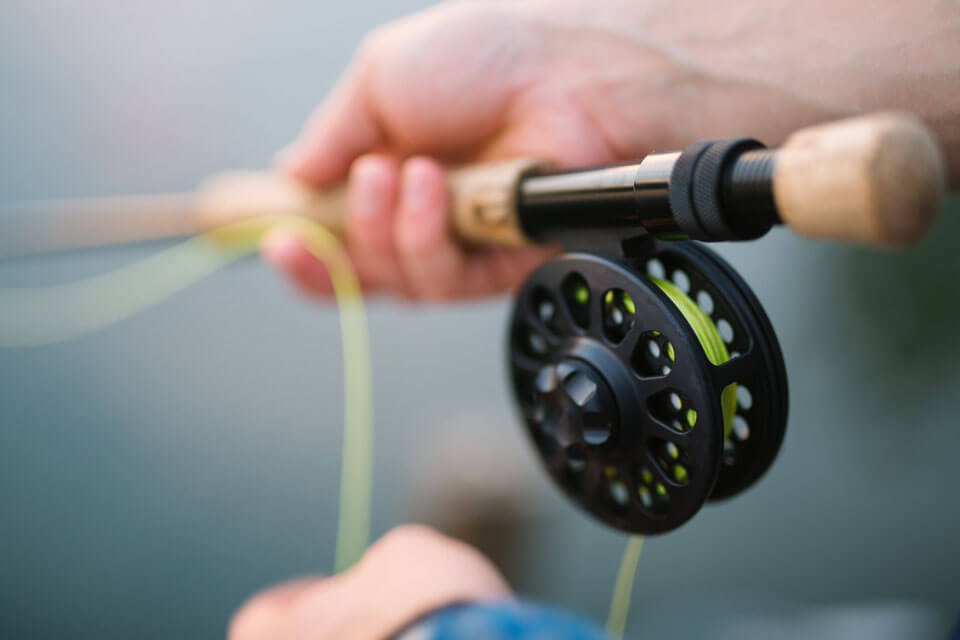 Fishing
Located just to the South of the park is Little Heritage Lake. This small, man-made lake is stocked with both Rainbow Trout and Brook Trout. Crayfish also inhabit the lake. It is a popular site for local anglers. All you need is your fishing rod and your Fishing Licence. 
Alberta Conservation Association stocks the lake three times a year.  Electric motors are allowed on the lake.
}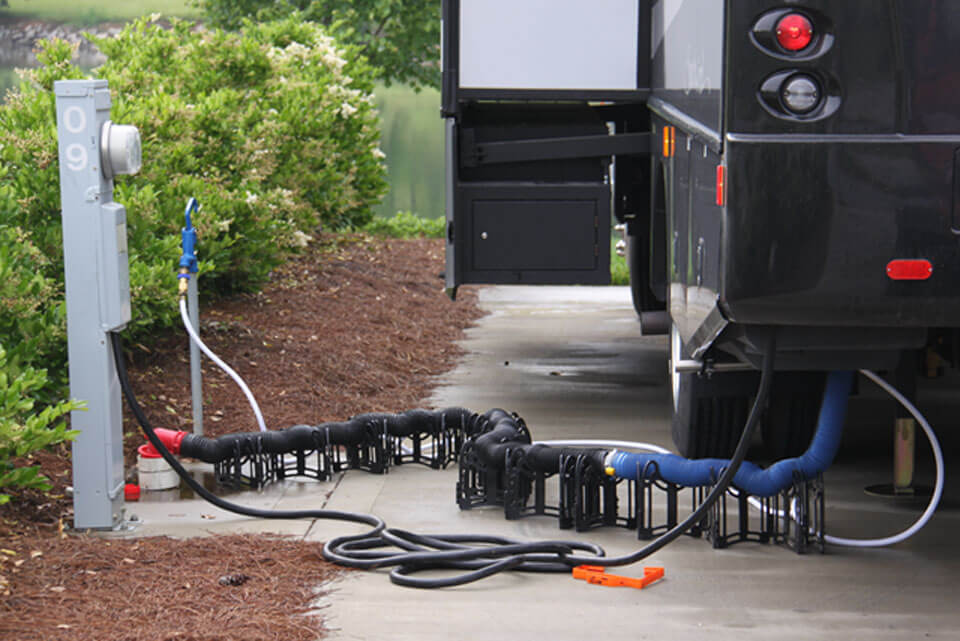 Power
We have 31 full service and 52 partial service sites with 15 Amp and 30 Amp power on all sites.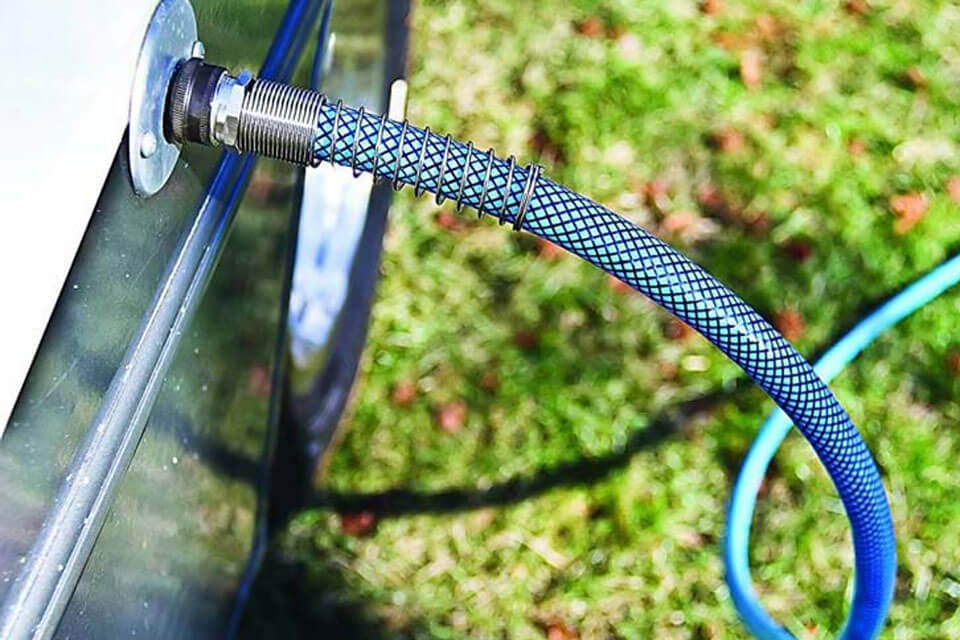 Water
Potable tested water is available on all sites.
}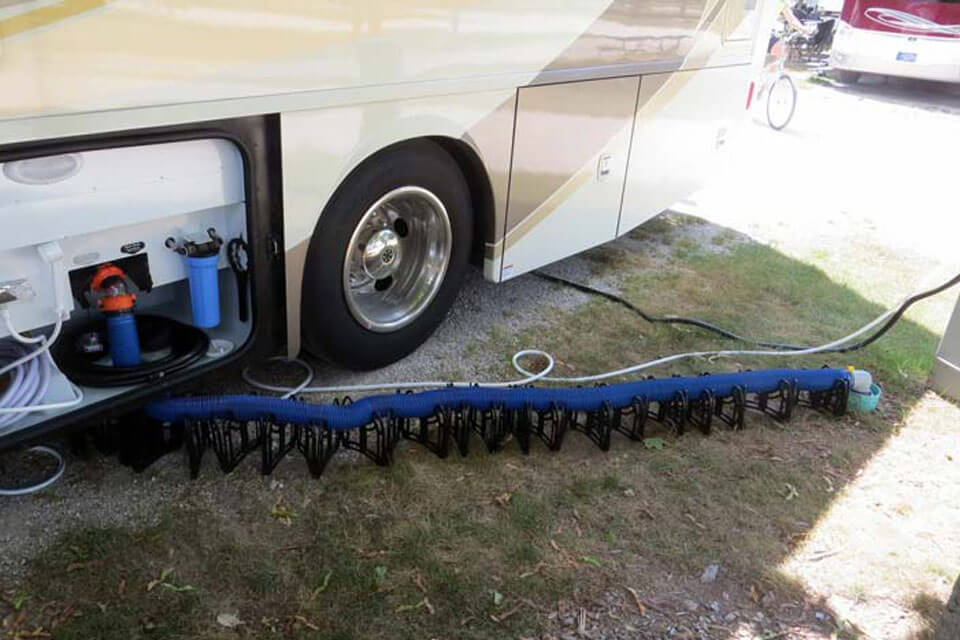 Sewer
We have 31 sites with sewer hook up as well as a honey wagon if needed in the non-sewer sites. The Town of Morinville has a public dump station just 5 minutes away.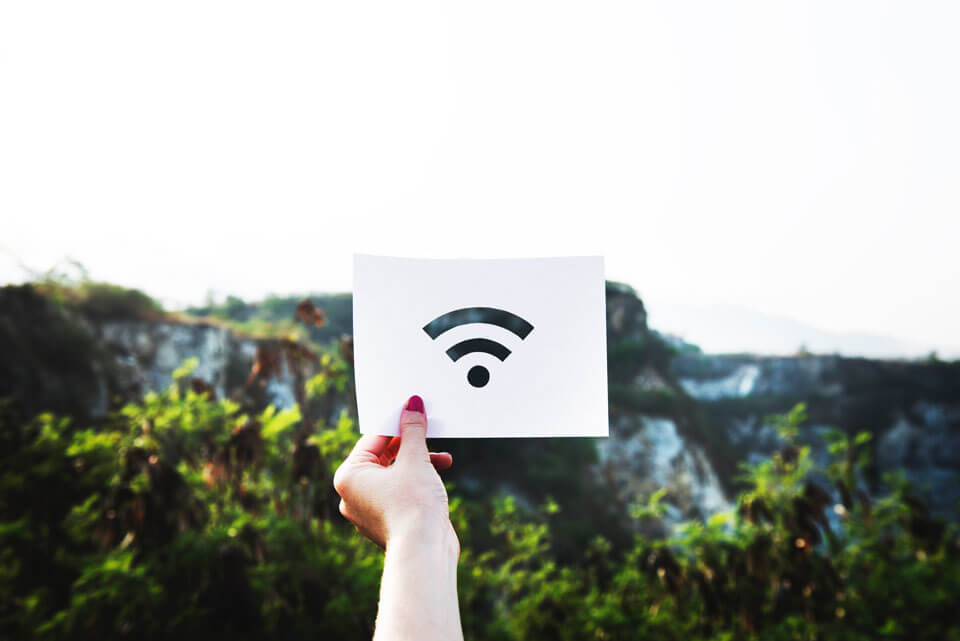 Wi-Fi
We offer free basic Telus Wi-Fi throughout the park. You will receive a password at registration.
}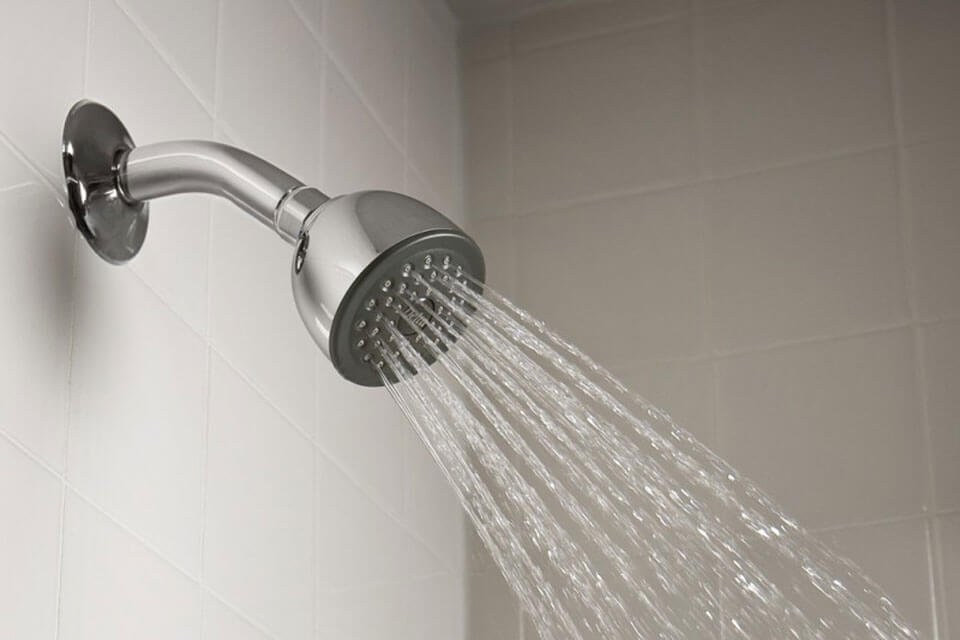 Coin Showers - Flush Toilets
Camping can be as rustic or and refined as you want to make it. We offer coin-operated showers and flush toilets for when you need to get cleaned up for that round of golf or that shopping trip.
The nearest laundromat is 5 minutes away in the town of Morinville.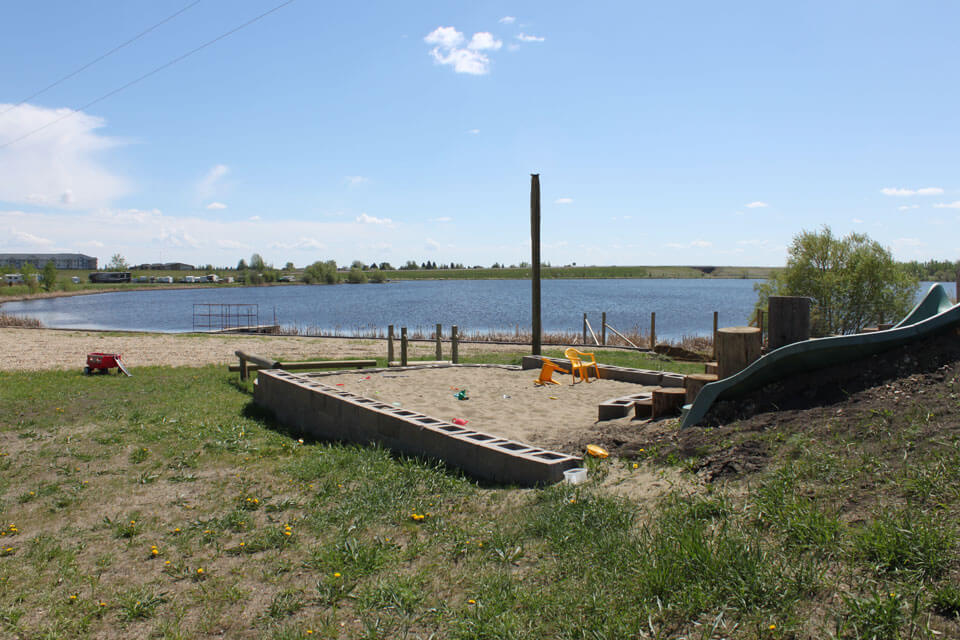 Playground
It's summertime! Your kids or grandkids need a place to burn off that energy! Our playground is a great spot for that. Please ensure that your children are attended at all times so that everyone can enjoy their stay with us.
}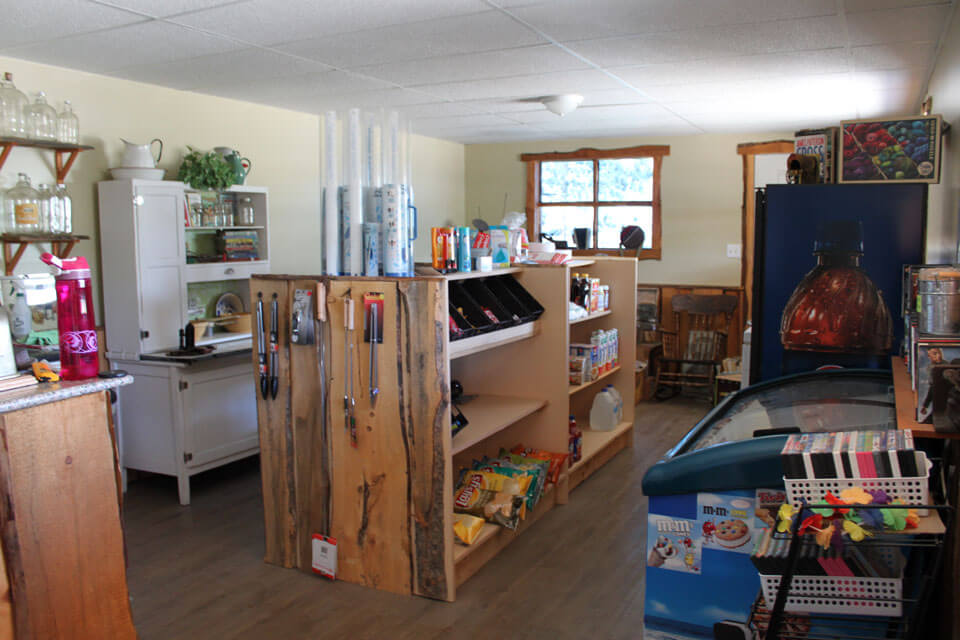 Store
Temporarily closed.
Our store carries the essentials. You don't have to make a trip into Morinville for every little thing you might run out of. Stop by the office to get your sweets and treats right on site.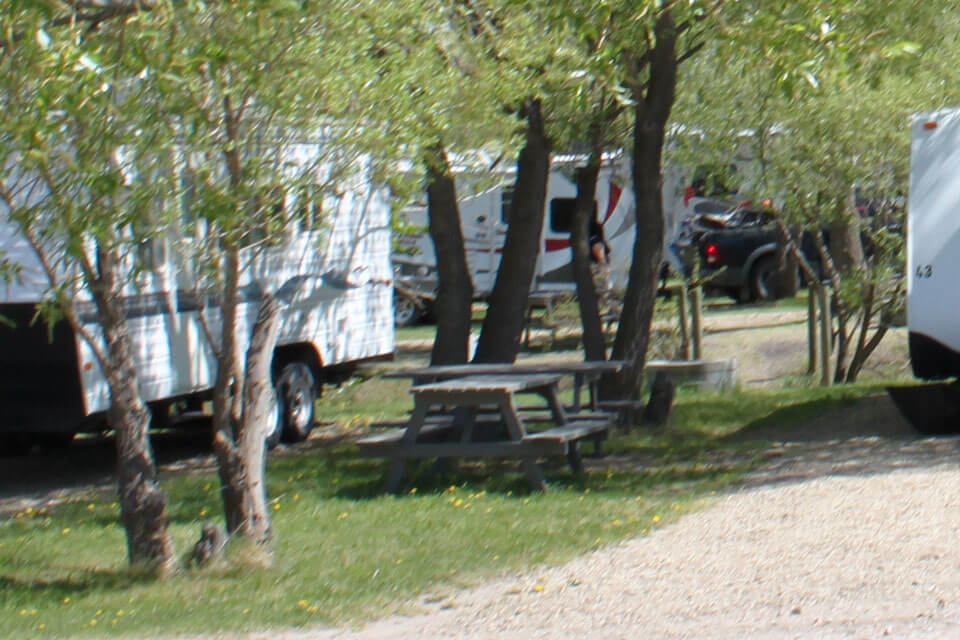 Picnic Tables
It's not camping without having some BBQ, a wiener roast, or a picnic! Lay out your feast on the picnic tables we provide on every site.
}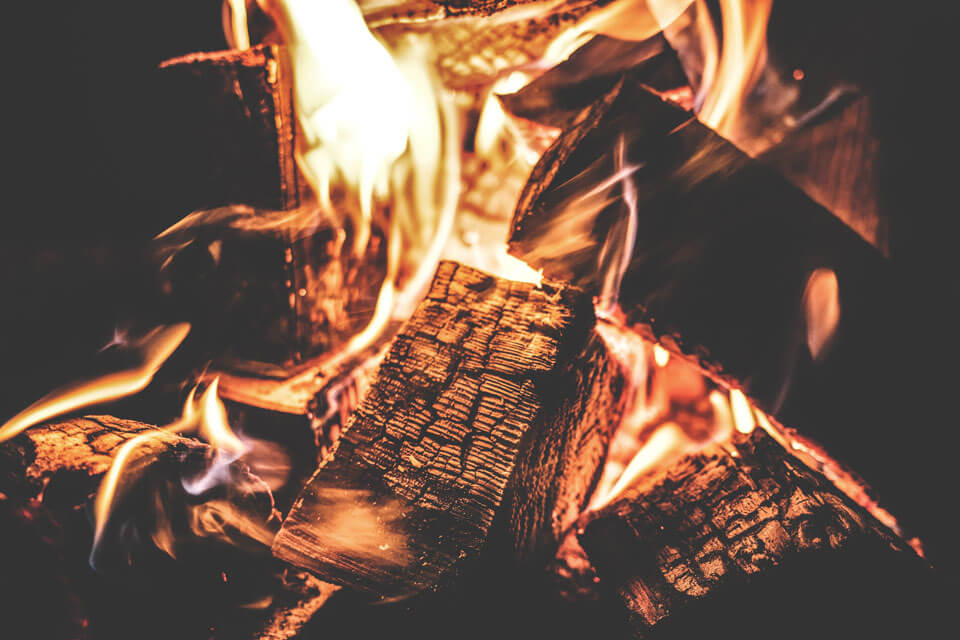 Firepits
Our firepits are ready for that wiener roast or for toasting marshmallows with the kids. Every site has its own firepit.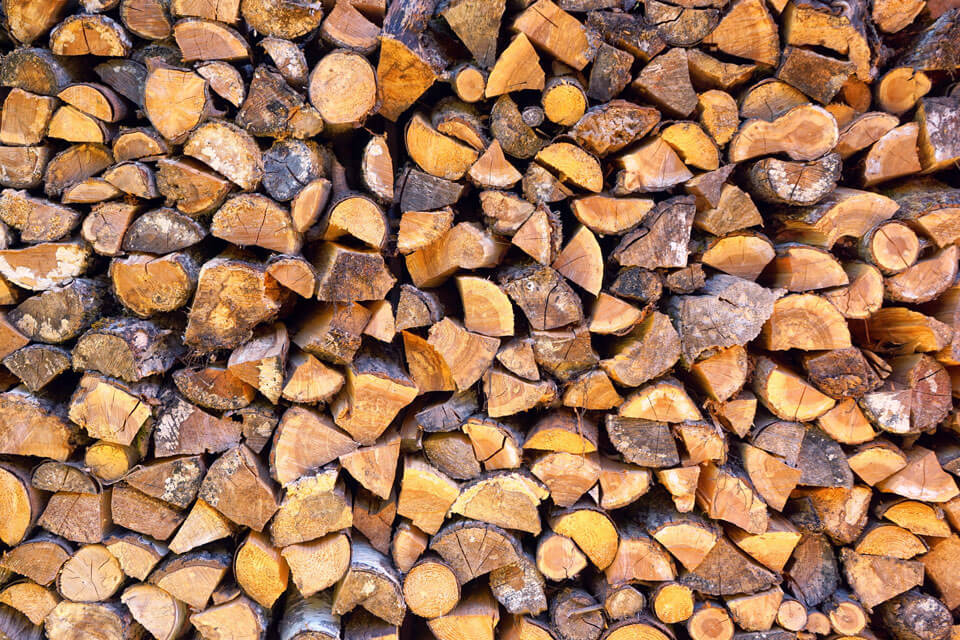 Firewood
 Firewood is available for $15 for a wagonload, delivered right to your site!
}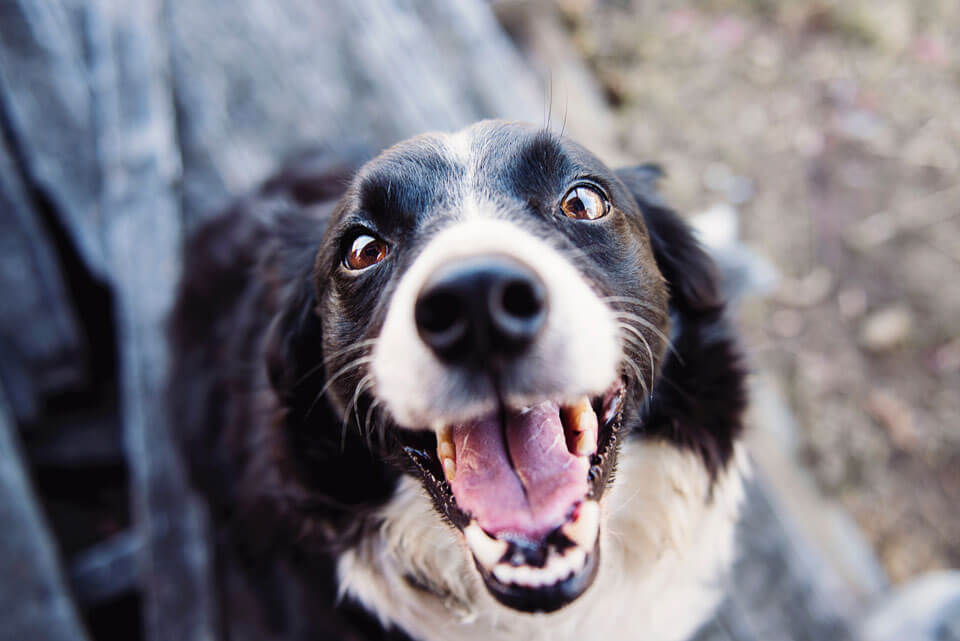 Pets Welcome
Your furry family is welcome! Basic pet etiquette is enforced - leashed at all times when outdoors, no excessive barking and pick up your poop.  Doggy bags can be purchased at the office.
We have a large off-leash area as well.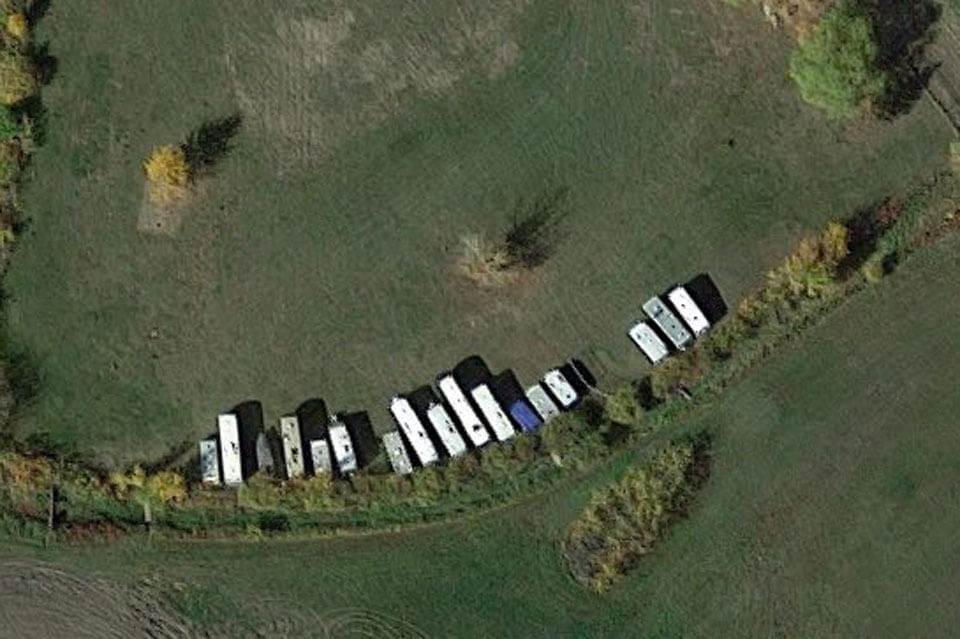 RV Storage
Leave your trailer, camper, or RV with us between camping trips for a reasonable rate of $6/day, $25/week, or $70/month. Discounts for longer storage- $300 for 6 months ($50/month) and $500 for one year ($40/month).
}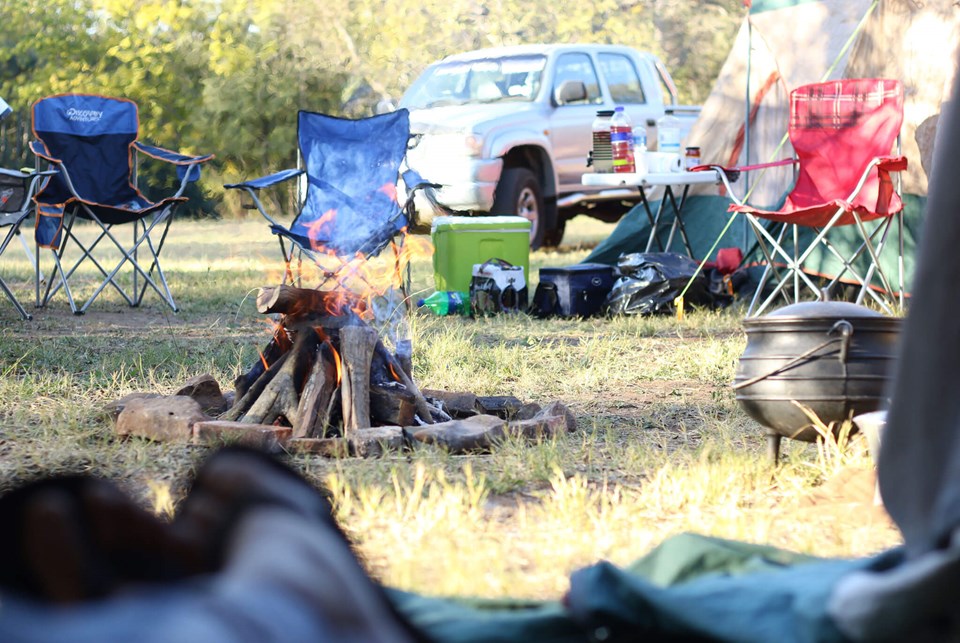 Group Bookings
We offer group bookings for sport teams, corporate events and family reunions. Please book ahead to reserve serviced sites for your group. There are fire pits and picnic tables on all sites.
 We proudly support sporting teams such as:
Baseball teams
Soccer teams
Hockey teams
Lacrosse teams
Call for more information and availability.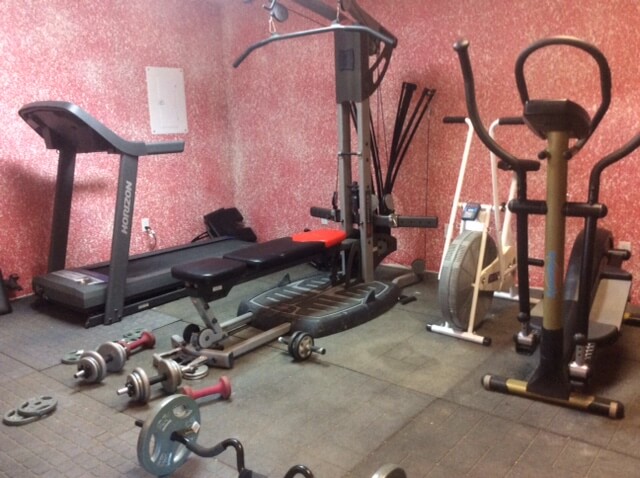 Gym Facilities
Heritage Lakes offers a full gym and workout facility for patrons of the campground, for more details contact the office at your leisure.
}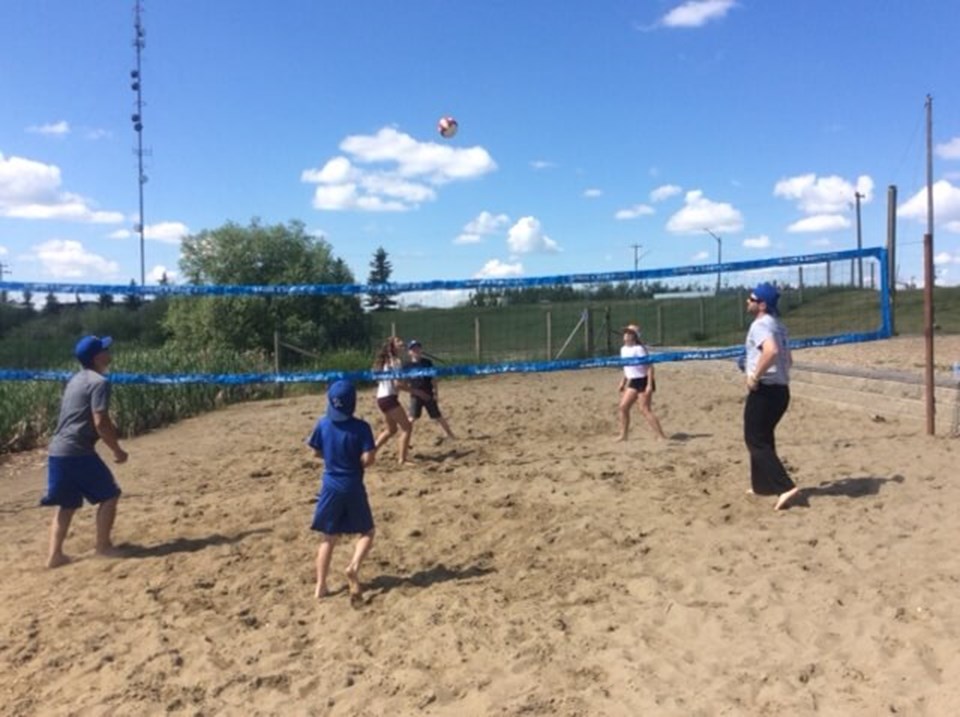 Volleyball & Beach Volleyball
Volleyballs are available at the office.
Beach volleyball is a team sport played by two teams of two players on a sand court divided by a net. Similar to indoor volleyball, the objective of the game is to send the ball over the net and to ground it on the opponent's side of the court. Each team works in unison to prevent the opposing team from grounding the ball on their side of the court.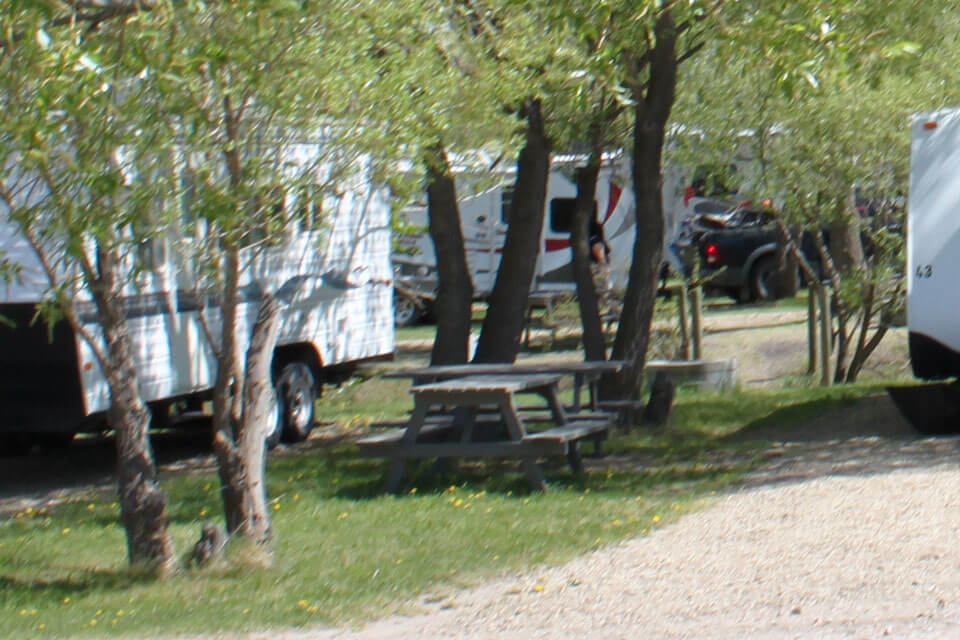 Seasonal RV Camping
Seasonal RV Camping
Looking for a place to hang up your hat AND your tow bar? Heritage Lakes RV Campground offers seasonal RV Camping.  Enjoy your home away from home by bringing your RV and avoiding the stress, hard work, and planning it takes to move your RV around over all over the province only on the long weekends of the summer.
By Setting up once a year you can be door to door hassle-free and just worry about getting the perfect steak for the BBQ.
Ask for costs related to leasing long-term RV space.  Large sites will be available 2024 where you can set up a deck, shed for lawn storage and park up to 2 vehicles.
}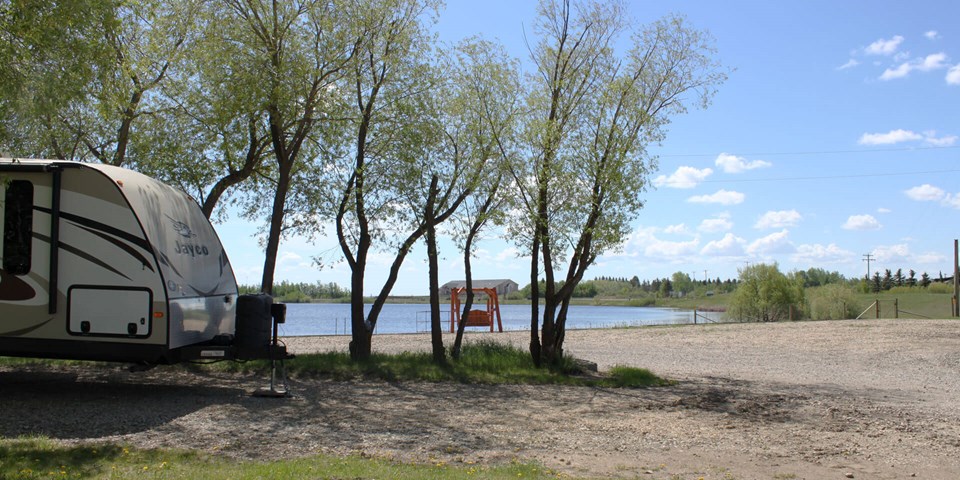 Weekend Camping
Looking for that perfect Weekend camping site? Look no further.  We offer a variety of weekend camping, tenting, and other short terms camping.
We can accommodate groups and events that need to be hosted at a campsite over a long weekend or week.
Kick up your heels or lay back and enjoy the outdoors all with access to a park, lake, boating, and much much more... 
Call early as there are limited spots available!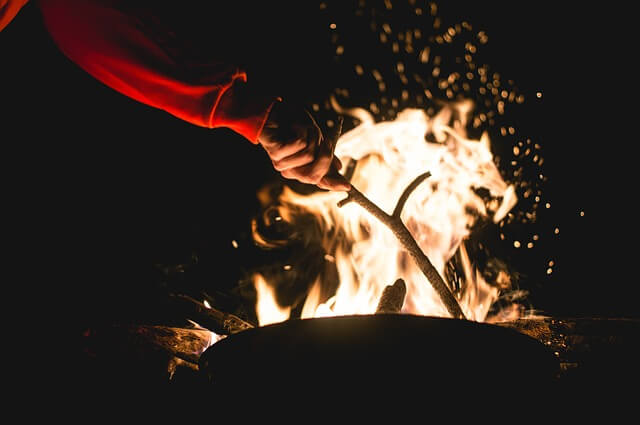 Short Term Seasonal Campsites
So you are staying in the area for the summer? or maybe you have a work contract for a few months? or just visiting family for a month or two and will be traveling down south once it gets chilly..
No matter your needs we here at Heritage Lakes RV Campground offer short-term seasonal RV camping options to suit anyone's needs. Boasting an incredible location close to all amenities, all the while offering the charm of camping can be the best combination for your stay.
We offer:
Daily RV Camping Options
Weekly RV Camping Options 
Monthly RV Camping Options
Call early as our spots are limited for short-term camping stays and they go fast!
}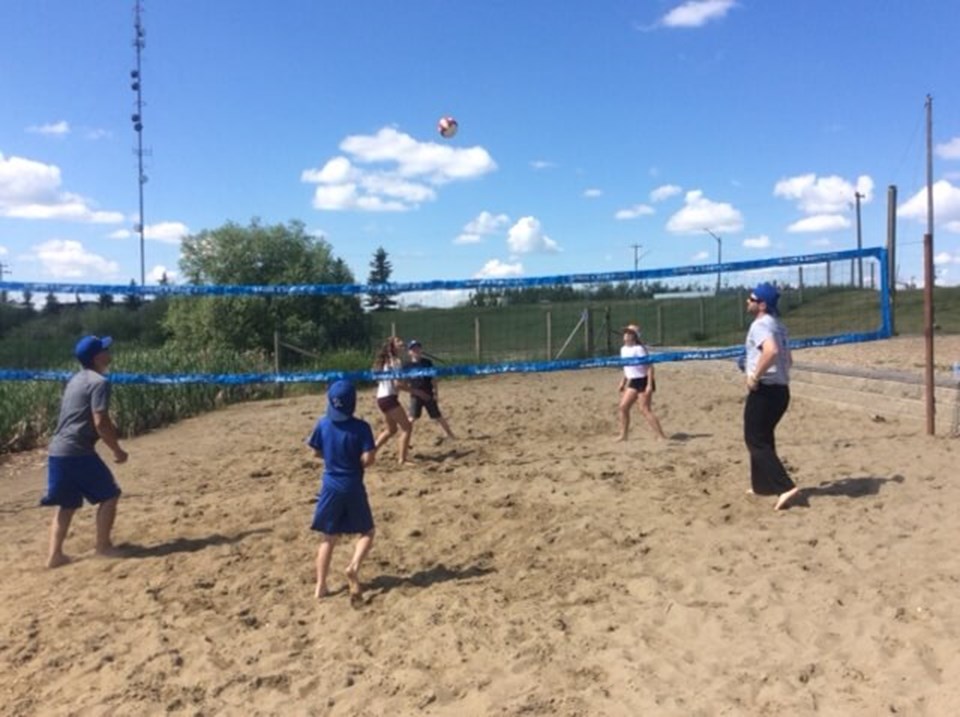 Baseball Facilities
Morinville Minor Baseball Association (MMBA) is a non-profit program offering both competitive and non-competitive baseball to our community youth, ages 4 to 18. Kids will learn good sportsmanship and fair play while learning the game of baseball. Seasons and levels vary, however most kids will have the opportunity to play games, have practices, enjoy tournament(s) and attend many camps within the "Baseball Alberta" Region. MMBA works closely with St. Albert Minor Baseball and Legal Minor Baseball to ensure a well-rounded program for all youth and abilities.
http://www.morinvilleminorbaseball.com/
St. Albert Minor Baseball Association Promotes the Development of Life Skills and Good Sportsmanship Through a Comprehensive Program of Recreational and Competitive Baseball for Youth.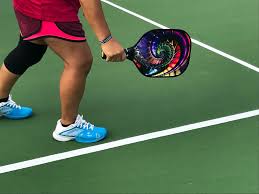 Pickleball Court
Pickleball equipment is available at the office.
Pickleball is a paddleball sport that combines elements of badminton, table tennis, and tennis. Two or four players use solid paddles made of wood or composite materials to hit a perforated polymer ball, much like a wiffle ball, with 26–40 round holes, over a net.
Resource Pickleball Wikipedia
}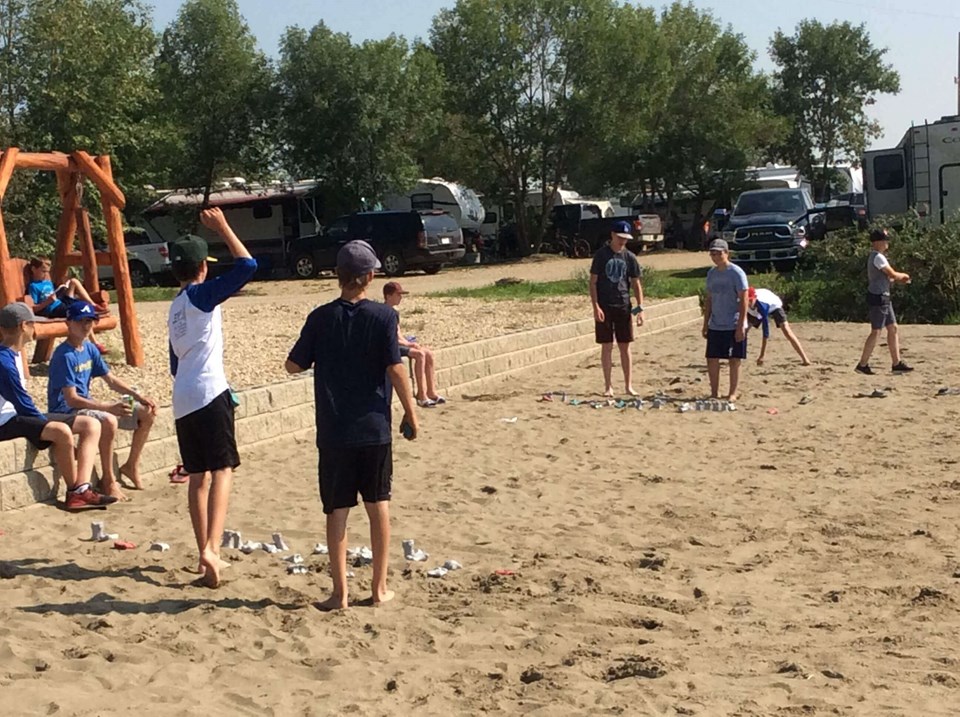 Horseshoes
Horseshoes is a lawn game played between two people using four horseshoes and two throwing targets set in a lawn or sandbox area. The game is played by the players alternating turns tossing horseshoes at stakes in the ground, which are traditionally placed 40 feet apart
Horseshoe rules Wikipedia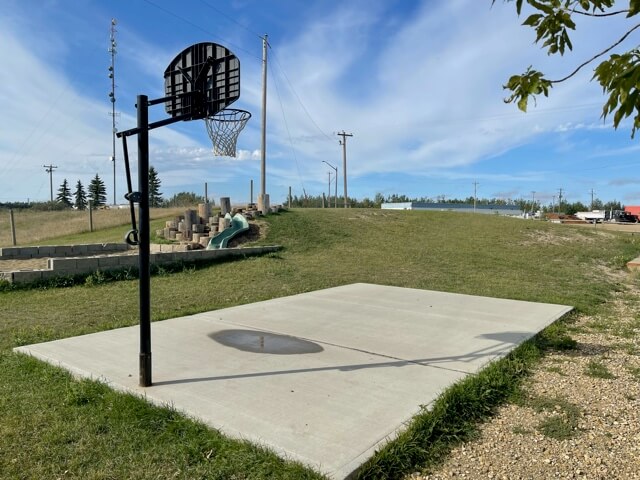 Basketball Facility
Basketball is a team sport in which two teams, most commonly of five players each, opposing one another on a rectangular court, compete with the primary objective of shooting a basketball (approximately 9.4 inches (24 cm) in diameter) through the defender's hoop (a basket 18 inches (46 cm) in diameter mounted 10 feet (3.048 m) high to a backboard at each end of the court) while preventing the opposing team from shooting through their own hoop. A field goal is worth two points, unless made from behind the three-point line, when it is worth three. After a foul, timed play stops and the player fouled or designated to shoot a technical foul is given one, two or three one-point free throws.
The team with the most points at the end of the game wins, but if regulation play expires with the score tied, an additional period of play (overtime) is mandated.
}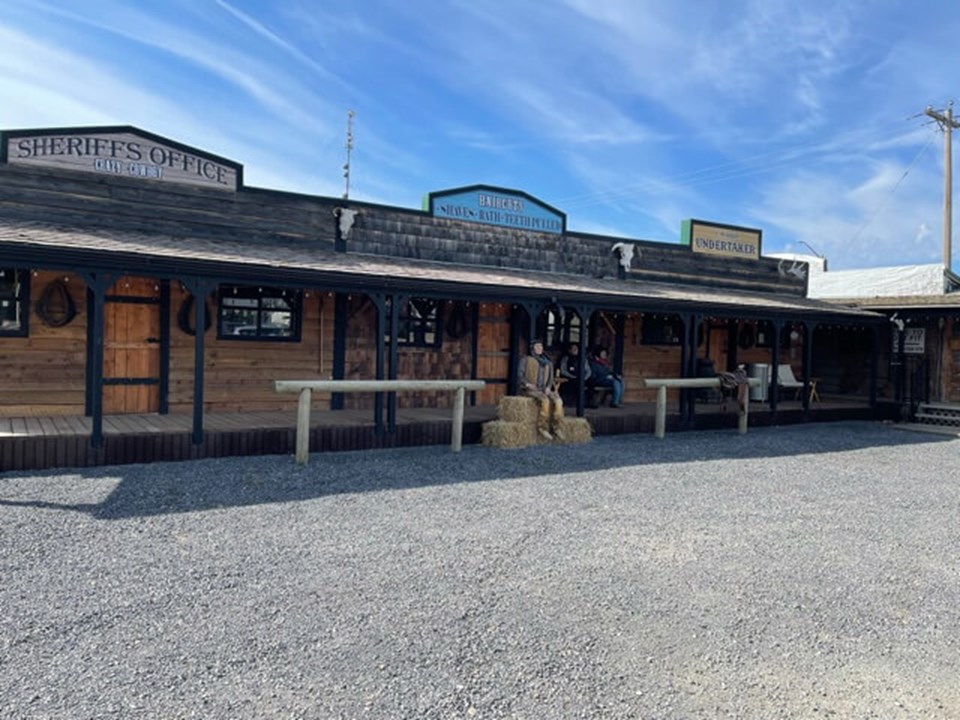 Store Campground
Heritage Lakes RV Campground offers a full functioning office and store. 
;